Home
About Us
Lessons
Rentals
Performances
Products
Audio Recording Services
Calendar
Links
For Fun
Contact Us
About Us
photo by Dave Lepori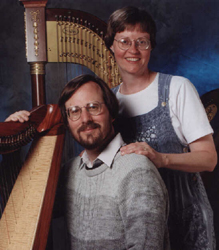 Holsinger Harps and Music is made up of Kevin and Carol Holsinger working in partnership.

Carol Holsinger enjoys the harp. She has loved music all her life, beginning her musical studies on the piano. She found the harp in college, even though she (sensibly) majored in business. Her primary instrument is a pedal harp which she enjoys playing with the California Pops Orchestra. She also plays various sizes of lever harp, enjoying the different strengths of each. Her favorite activity is sharing her love of the harp, most often through teaching students of all ages.

Kevin Holsinger has also loved music all his life. He began with the saxophone and now is enjoying harp after having tried a couple of other instruments along the way. He first fell in love with the lever harp and now also performs on a cross-strung harp as a soloist and as a partner in a duo, Bronzewood Paedeia. He has written music for lever and cross-strung harps and is now spending much of his time as an audio recording engineer.